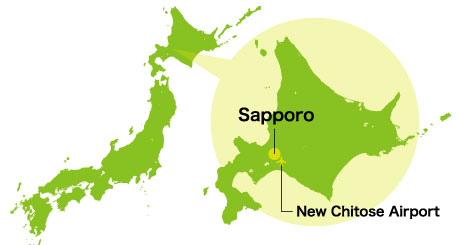 General Information
With a population of 1.9 million, Sapporo is ranked as the fifth largest city in Japan, and serves as the political, economic, and cultural center of northern Japan. Well-developed transportation systems allow easy access to the city.

The city is proud of the extraordinary harmony between nature and an urban setting. Many characteristic parks in the city provide greenery and places for recreation and comfort for residents. Sapporo witnesses colorful changes with the change in seasons. Just outside of the urbanized area are natural forest areas where people can enjoy various outdoor activities, such as hiking in the summer and skiing in the winter.

In Sapporo, where approximately a 100 international conferences are held every year, you can expect generous hospitality from the citizens. Information signs in the city, which is laid out in a grid pattern, are in both Japanese and English, making it easier for foreign visitors to walk around.
Culture
Sapporo is the cultural center of Hokkaido. There are a number of major museums and concert halls of Hokkaido in the city. Sapporo Art Park is an outdoor sculpture museum built amidst a natural forest. Sapporo Concert Hall "Kitara", opened in 1997, boasts excellent acoustics, and is one of the best halls in the world.
World Sport Events
Sapporo used to be famous only for 1972 Winter Olympic Game's Host City, but these days Sapporo is known as the city of world sport events. In 2002, Sapporo was the one of the host city of The 2002 FIFA World Cup Soccer Korea-Japan. Sapporo is excited about hosting FIS Nordic World Ski Championships, February 2007. The quality of Sapporo's event management/organization is based on those experience.
Climate and Clothing
Sapporo witnesses the colorful changes of four distinctive seasons. Especially, autumn in Sapporo is comfortable and pleasant, which is much different from the other parts of Japan.
Summer days in July and August bring temperatures into the mid-twenties. Short sleeved shirts are suitable for the daytime but temperatures drop a little in the evenings and early mornings.
Currency
The YEN is the official national currency of Japan. The denotation is JPY.
Notes and Coins: There are 4 kinds of notes and 6 kinds of coins.

-Notes: 10,000 yen, 5,000 yen, 2,000 yen and 1,000 yen
-Coins: 500 yen, 100 yen, 50 yen, 10 yen, 5 yen and 1 yen

Currency Exchange:
-Major foreign currencies are exchanged at the airports, banks, hotels and the Central Post Office in Sapporo.
-Major convenience stores (mostly open 24 hours) have ATMs with cash dispensers that accept most major credit cards.

Credit Cards and Cheques:
-Major hotels, restaurants and shops accept credit card payment. Many places do not accept payment by bank cheques.
Tipping
For taxi and restaurants the service charge is included in the price.
Consumption Tax
The Japanese government imposes a 8% consumption tax. Thus, an extra 8% will be charged on almost all commodities and services.
Electrical Voltage
The electricity supply in Sapporo is 100 V AC 50 Hz with 2-pronged plug/socket arrangement.
The official hotels have a limited number of adaptors to adjust to your electricity devices. You are highly recommended to bring your own adaptor and transformer.
If you wish to use your own computer at the venue, you are also advised to bring the plug adaptor with you.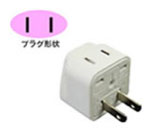 Insurance
The congress organizers cannot accept liability for personal injuries sustained,or for loss or damage of property belonging to congress participants (or their accompanying persons),either during,or as a result of the congress. Please ensure that you have the appropriate insurance.
Visa
Anyone entering Japan must have a valid passport. In addition, participants from particular countries must have a visa issued by Japanese Embassy or Consulate Generals in their countries. Consult your local Japanese Embassy or Consulate Generals as to whether or not a visa is required. It could sometimes take more than a month to obtain a visa.

For general information on visas, visit the Japanese Ministry of Foreign Affairs website at:
http://www.mofa.go.jp/j_info/visit/visa/

For enquiries on visas by the registered participants, you may contact Tsuyoshi Yoshida (Secretary-General) at iwmc@rakuno.ac.jp